I'm a little surprised that it's already been a year since I released Candle and Claw. I generally stick to talking about larger book topics on the blog, but for this occasion I want to share a few overall updates and some recap of what's happened in the past year.
If you keep up with my newsletter, much of this will be old hat, but here's what I've got.
An Epic Map of Foneth
I tend to believe that epic fantasy merits maps, and I intended from the start for Candle and Claw to have such a map to guide the reader along (even though the geographic scope of the book is small). It took me longer than planned to find the right artist and make it happen, but here it is, thanks to the very skilled and imaginative Corey Egbert.
The map is now available in ebook form and will be included in all print versions of the book by the end of the month.
Just as important, having the map in front of me has been hugely helpful as I write Glyph and Glaive—and much easier to read than my own scribbly version of it.
Candle and Claw Won a Grant from the 2022 Indie Fantasy Fund
The Indie Fantasy Fund (IFF) selected Candle and Claw for a grant in 2022, which was AMAZING NEWS. This funding paid for the map shown above, as well as some additional advertising for the book.
I'm deeply grateful for how these funds supported my writing over the past year. Here's the announcement video, by the way.
Draft One of Glyph and Glaive Is Complete
Finally, I've been working since before Candle and Claw came out to write book two in the Witherclaw Trilogy. As of this very week, I've completed the first draft of Glyph and Glaive.
There's lots of work still to do, but I'm ready to share more detail than I've made public yet!
Glyph and Glaive features plenty of returning characters from the previous volume, including Giovel Ullin, various military and political leaders of Foneth, and Varan Witherclaw herself.
There's a new(ish) protagonist as well, whom I'm excited to introduce in detail before the month is up—a character who appeared in some capacity in the previous book but who will really be the star for this volume.
The novel is currently 50% longer than Candle and Claw, and I already have a list of stuff to add for draft two. I know I can trim some as well, but it will definitely be chunkier than the first book in the trilogy.
Last but not least, I'm on track to release Glyph and Glaive in 2024. It won't be ready before then, and I don't have a firm date to promise yet, but I'm eager to get it into readers' hands.
That's it! Thanks for reading.
---
For more news, editorial, and blog content, sign up for the monthly newsletter. It's free to sign up, and you can unsubscribe any time.
---
About the Author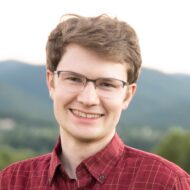 Stephen Taylor is the author of The Witherclaw Trilogy as well as short fiction appearing in The Future Fire, MYTHIC Magazine, The Centropic Oracle, and other publications. His short story "Only an Ocean" won a Silver Honorable Mention in the L. Ron Hubbard Writers of the Future Contest. When he's not writing, he's often playing my violin or wandering in the woods.