There's no shortage of forgettable cover art in epic fantasy. It's probably no one's fault; there are plenty of forgettable books in the genre to begin with. It's also typical that no one involved in making a book cover gets much time, context, or money for their work.
Book publishing authorities sometimes put forward another theory: That publishers produce a bunch of drab covers to make amazing ones truly shine. Whether you buy this or not, you can definitely find amazing, standout covers parting the clamor of so many others.
Here are a few epic fantasy artists whose work truly distinguishes itself.
1. Magali Villeneuve
Self-taught French artist Magali Villeneuve is probably best known for her Stormlight Archive paintings or her illustrated edition of Robin Hobb's Farseer Trilogy. She has also done cover art for Mercedes Lackey, Trudi Canavan, Jon Skovron, and Andrzej Sapkowski.
While Velleneuve's work tends to be extremely character focused, it's easy to recognize her expansive backdrops and epicly detailed backgrounds as well.
2. Todd Lockwood
If you're an epic fantasy reader, you've probably seen a Todd Lockwood cover before. His work includes cover illustrations for The Wheel of Time, Malazan, many of R. A. Salvatore's books, and his own novel The Summer Dragon.
Lockwood has done work in quite a few styles, ranging from crisp and clear to more gritty, ethereal, or even minimalistic art. If there are any common threads throughout, it's that Lockwood is known for his high magic types of scenes and his many, many distinctive dragons.
---
3. Ivan Belikov
Speaking of dragons, here's a bold one. Ivan Belikov's fantastical artwork gained a lot of acclaim when he created the cover art for Samantha Shannon's The Priory of the Orange Tree—which is a strong representation of Belikov's overall style.
Through just about all of Belikov's work you'll find audacious textures, vibrant color palettes, and huge, snarling critters. It's not a style you're likely to forget once you've seen it.
4. Rovina Cai
Like Belikov, Rovina Cai brings a style that seems completely unashamed to be illustrated. Her work is quickly recognizable for its clear, stark strokes, which Cai uses to draw the eye in an incredibly organic way. She also makes impressive use of negative space, disguising one element as another on the regular.
Cai has provided art for authors like Darcie Little Badger, Naomi Novik, and Patrick Ness, along with numerous pieces for Tor.com's short fiction. You'll regularly find her work up for SFF's top awards.
5. Michael Whelan
Few artists have worked as widely across the industry as Michael Whelan. Marion Zimmer Bradley, Michael Moorecock, Tad Williams, Ray Bradbury, Anne McCaffrey, Arthur Clarke, Barbara Hambly, Sean Russell and Stephen King are just a very few of the authors for whom Whelan has provided cover illustrations.
Whelan has proven himself to be unbelievably adaptable, providing pulpy covers one moment and esoteric work the next. He seems to have traveled with the zeitgeist many times, almost reinventing his style as it would seem. Little wonder that he's still covering (that's a pun) the biggest names in SFF today.
6. Tommy Arnold
Robin Hobb, Joe Abercrombie, John Chu, and David Dalglish have all benefited from Tommy Arnold's artwork, and he has provided covers across nearly every major U.S. publisher of science fiction or fantasy.
Arnold has perhaps the most elevated modus operandi of any names on this list, with an obvious skill for near photorealistic depictions—though many of his illustrations are boldly stylized as well.
7. Kinuko Y. Craft
Elevated might be the right term for Kinuko Y. Craft's work as well. Craft's knowledge of European art is apparent in her many covers for Tanith Lee, Patricia McKillip, and some bard called William Shakespeare. You'll find in these covers a baroque sense of detail and an almost high renaissance style of composition, with musical instruments, fruit, doves, and other symbolic elements populating most of the work. Oh, and she literally did a series of Roman goddess artwork too.
Most of all, Craft's fantasy book covers are entirely distinct. Other than a few pieces of work that might pass for paintings by Botticelli or Dante Gabriel Rossetti, her imagery is quickly recognizable wherever it sits.
8. Richard Anderson
With any artist on this list, the fastest way to get the gist of their work is to go take a look. Richard Anderson's book covers evoke a gritty, lived-in sense of setting that will stick with you quickly after seeing just a few of his works.
Anderson has provided truly iconic covers for authors like Elizabeth Bear, Brian Staveley, Kameron Hurley, and Victor Milán. On that note, I can't think of another artist who could so skilfully make knights on dinosaurs look 100% plausible.
9. Raymond Swanland
Lockwood depicts dragons, Belikov paints colorful monsters, and Raymond Swanland's portfolio is filled with interesting weaponry, especially unique swords or spears shown midstroke. Like Anderson, Swanland is on the grittiest edge of the artists listed here, typically employing a bleak palette across intensely energetic scenes. Little wonder that his work most often crops up for darker or military-focused fantasy.
Swanland's covers for The Black Company (Glen Cook) are among his most famous—and truly his style is ideal for a series about mercenaries and monsters. Swanland has also done awe-inspiring covers for Brent Weeks, Joe Abercrombie, L. E. Modesitt Jr, Robert Jordan, James Barclay, and R. A. Salvatore, as well as many other Forgotten Realms works.
---
Get more nerdy content in your inbox.
---
About the Author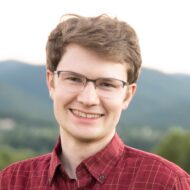 Stephen Taylor is the author of The Witherclaw Trilogy as well as short fiction appearing in The Future Fire, MYTHIC Magazine, The Centropic Oracle, and other publications. His short story "Only an Ocean" won a Silver Honorable Mention in the L. Ron Hubbard Writers of the Future Contest. When he's not writing, he's often playing my violin or wandering in the woods.